With everything Apple released on iOS15 and watchOS 8, plus the new Series 7 around the corner, this Slopes app update was definitely focused on building a better recording experience across all devices.
The big news? Smart Recording Reminders! And when we're saying smart, we're saying intelligent, automatic reminders, that simply ping you for the right action, without much of a set-up standing in the way.
Here's at a glance what  Slopes 2021.13 has to give:
Thanks to the new region-based user notifications in watch OS8,  we've managed to smoothly tackle one of the most frequent requests from y'all, and something I've been trying to crack since forever: Smart Recording Reminders.
Always-On display on Apple Watch when using the new version of watchOS.
Intelligent widget suggestions support for Resort Conditions and forecast widgets. So if you check conditions at your favorite resort every day at 8am, the Smart Stack widget in the new iOS should start recommending the conditions widget even if you haven't added it manually yet.
The Conditions widget also supports relevance scores. Thus, the system knows a powder day is important and will highlight the widget when in a stack.
What's up with the Smart Recording Reminders?
Forgot to start recording at the beginning of the day? Forgot to stop recording and realised half-way through driving back home? Yup, there's a chance it happened to you too and boy, it's frustrating. So why can't Slopes notify me to start when I'm close to a lift? Now it does!
Smart Reminders are unique to Slopes, an extra safety net helping make sure you never forget to start & stop Slopes when you need to. And they are available on both iOS and watchOS (requires watchOS 8).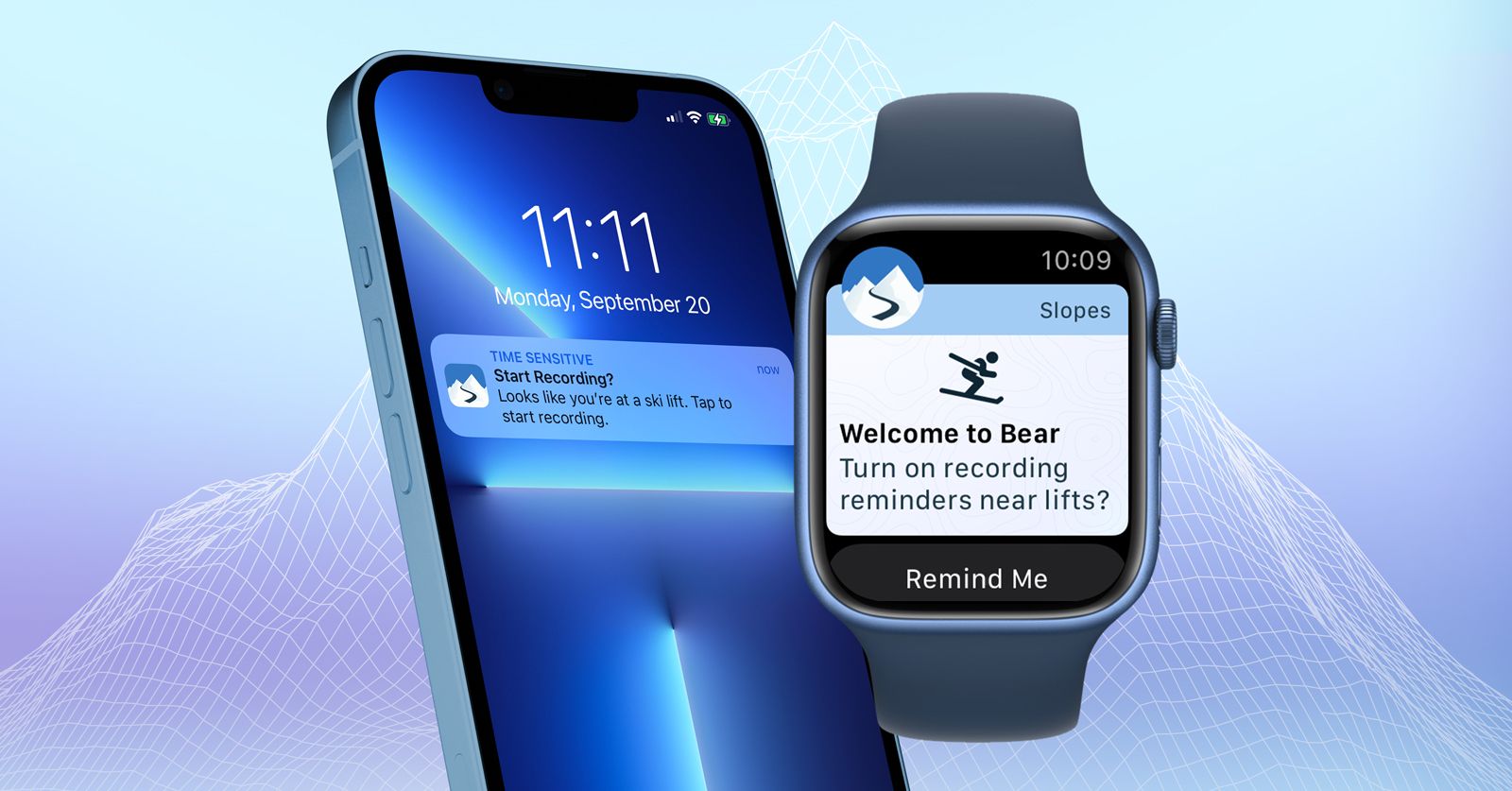 Smart Reminders change intelligently based on what you're doing:
At a resort, not recording: Slopes will ask if you want to record when you get within 100 yards / meters of a lift. If there are more than a dozen lifts at a resort, Slopes will set up these alerts based on the most popular lifts.
At a resort, recording: Slopes will alert you when it thinks you drove away from the resort (2+ miles) or if it is getting later in the day and you haven't stopped recording yet (10pm).
At a resort, paused: Slopes will alert you to resume recording if you get near a lift again, or to end your day if you've been paused for more than an hour and a half, or if it thinks you drove away.
Slopes does this without running in the background and using extra battery. iOS and watchOS 8 allow apps to give a list of around a dozen locations and pre-create notifications to show if they get near them, or leave the region.
Bye-bye speed records you would've hit on the highway 😲. The old reminder system has been completely replaced with Smart Reminders. And you can find out everything about it and how they work here.
Sneak a peek on future upgrades for Series 7
Larger and more advanced display? We really got excited at the 20 percent more screen area and everything we could do. So while we wait for the Series 7 release, we've already started tweaking:
New for all Apple Watch models, say hello to heart rate graph while you're recording.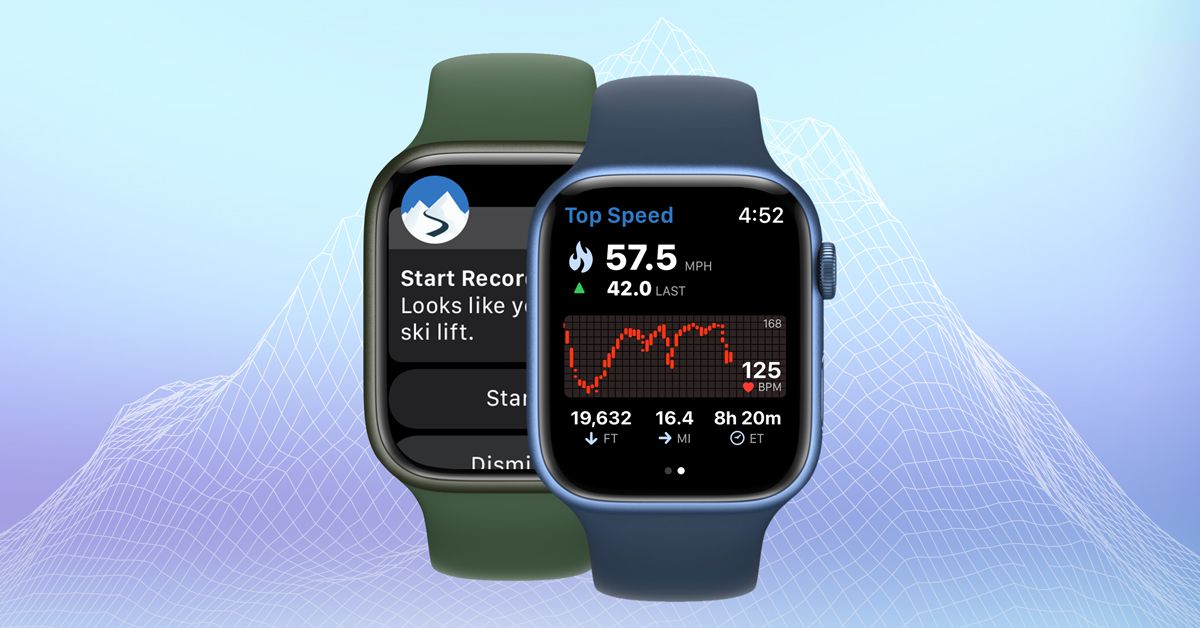 I'm always curious when I'm hiking up Peak 8 at Breck where my heart rate is at compared to riding a groomer, and I was really annoyed Slopes didn't show me this. Therefore the graph of vertical - speed - etc for the most recent 5 runs has been replaced with a heart rate graph while you're recording. It'll show the last hour of your heart rate, so it is easy to go back and look after you make it to the bottom.
The stat graphs might be gone, but whichever stat you have as your focus (rotate the Digital Crown) will now show an arrow to indicate which of your most recent run was better/worse vs the previous. Much easier to glance, and really that was the point of the graphs anyway.
We're almost-almost at the beginning of a new season, so stay safe, get the latest Slopes app update, and stay tuned for the season kick-off release, coming in November.