Heading for the mountains soon? Don't forget to run Slopes.
In a day and age where everyone is so tremendously busy, it's easy to forget the little things. Sometimes, a nudge to help you remember can be really helpful.
Slopes Reminders and Alerts are fast and easy to set, and you can do it in one of two ways: Time-Based reminders, and Location-Based reminders.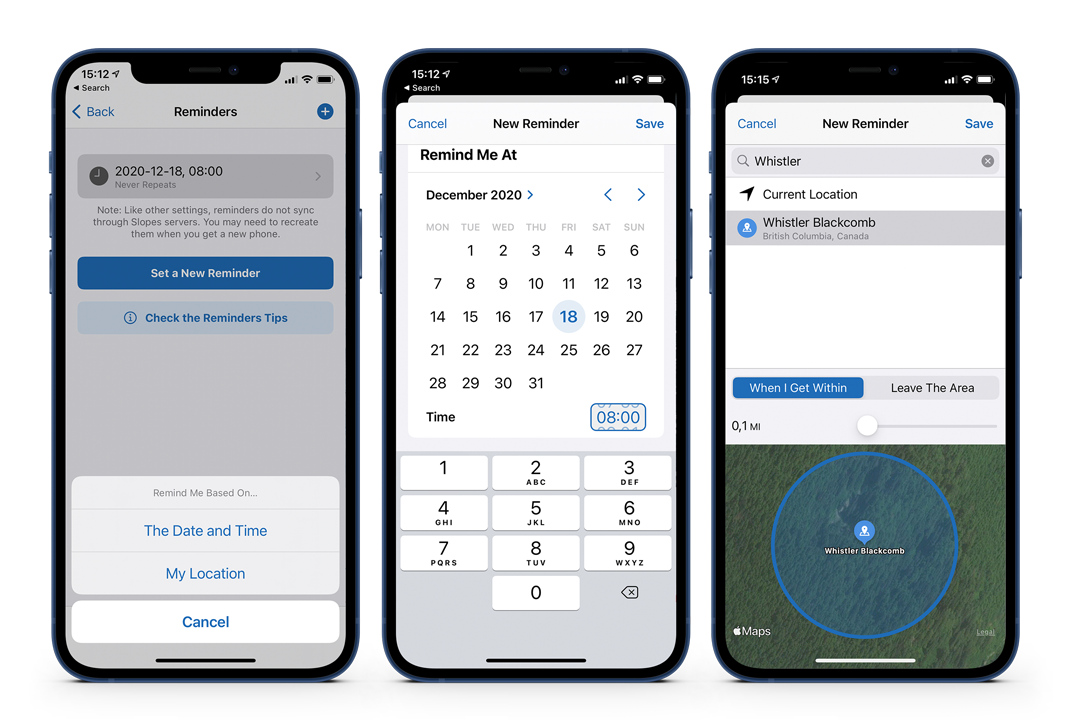 Time After Time
If you know a trip is coming up, you can set alerts ahead of time, choosing when and for how many days you'd like reminders to run the app. Your phone will give you a helpful ping to start recording, before you head down the mountain.
Location, Location, Location
Location-Based reminders are great, in that you can make them super specific, or more general. Here's some examples of different ways you can set them…
Big picture: Whether its a whole resort, lodge, condo, or even just the spot where you pick up your gear, these wider ranging location reminders are helpful for remembering you'll need to record your run soon.
Get Specific: If you're more of a person who needs the reminder RIGHT before you take off down the mountain, set specific, smaller range Location-Based reminders, selecting spots as small as the parking lot or the lift. You can even zoom far enough in to set your reminder within 0.2 miles of your start point.
Heading Out: Another kind of reminder you can set is one to remind you to stop recording when you're leaving a location. The last thing anyone wants is for your skiing speed stats to match how fast you're going on the highway.
I hope these reminders about reminders help you remember to set your reminders. 😉
---
More Pro Tips:
Record on Apple Watch
Connect to Strava
Import Activities from Other Apps
All-Day Battery Life
Edit Your Day
GPS Signal
Get Started with Slopes