This Holidays season ride on Premium with your friends!
Enter the Slopes Santa Giveaway on Instagram and you can win one of the 25 x Group Trip Passes of 4 on Christmas Day. 🎅🎄🎁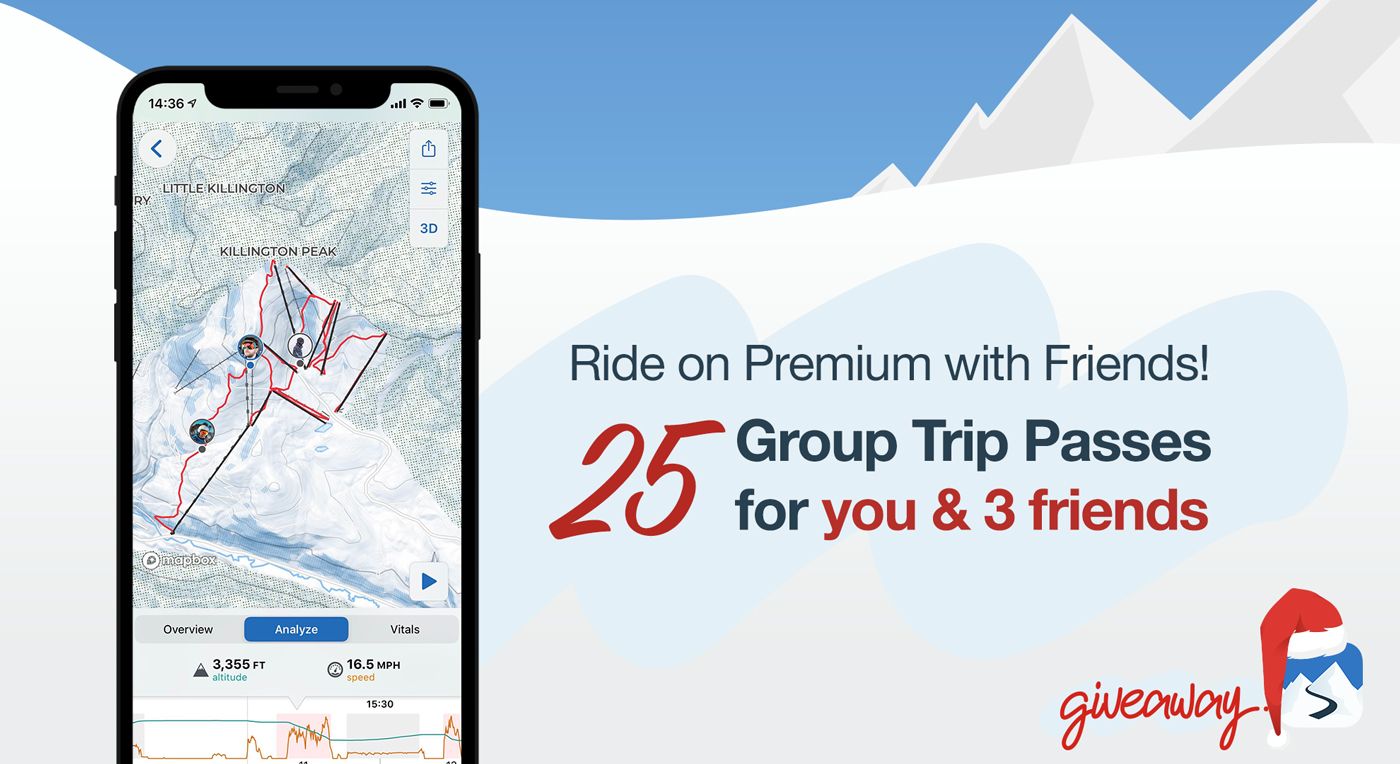 Check out the promotional post here: https://www.instagram.com/p/B6Q58_aFhQS/  and this is what you have to do:
1️⃣ Comment to the promotional post on Instagram and tag 3 friends you want to ride with this winter.
2️⃣ You'll be automatically entered for a chance to win one of the 25 Slopes "Trip Pass Friends & Groups 4".
3️⃣ We'll draw the winners on 25th December and announce them on the same day.
▶️ Only one comment per user will enter to win. If you post more comments, only the first one will be taken into account.
🎁 Winners will receive their prize via Instagram direct message - we will send you an App Store Promo Code to redeem your Group Pass. Once you redeem the group pass, you can further transfer individual trips to other 3 friends.
Make sure we can reach out to you by following @slopesapp on Instagram.
---
Information about the giveaway (promotion) and the General Terms and Conditions
These Terms apply to the Slopes Santa Giveaway on @SlopesApp Instagram account. The promotion can be accessed on Instagram under the post: https://www.instagram.com/p/B6Q58_aFhQS/ , and is held by Consumed by Code, 399 Market Street, Suite 360, Philadelphia, Pennsylvania 19103, United States.
The promotional period begins on 19 December 2019 and will run until 24 December 2019, 11:59pm PT. Winners will be announced by their Instagram username on 25th December 2019, as later edit to the SlopesApp promotional post on Instagram.
Participants must be 18 years or older when they enter the promotion. Consumed by Code has the right to request a written verification of the winner's address and age before awarding a prize. This giveaway is not affiliated with Instagram in any way. No purchase necessary.
Consumed by Code has the right to exclude entries that do not comply with these Terms. Consumed by Code is not responsible for any problems with networks, computer hardware or software or any type of disruption that may cause the delay, loss or incomplete entry of the participant's form or other details.
Participants automatically consent to these Terms. All decisions made by Consumed by Code regarding this promotion are final and cannot be contested.
Information about prizes and how these are awarded:
Consumed by Code assumes responsibility for any gaming taxes and taxes levied on tickets and products. The winner is responsible for any other taxes, charges and gratuities that are not explicitly included or associated with this prize. In accepting the prize, the winner agrees that acceptance is entirely at the risk and responsibility of the winner.
There are a total of 25 prizes that will be awarded. Each prize package consists of 4 x 7-Day Slopes Trip Passes that the user can individually transfer to other users in the Slopes iOS app.
The promotion (including these Terms) is subject to the United States law.
The prizes will be delivered via Instagram Direct Message. A Slopes Trip Pass Friends & Groups 4 Promo Code will be sent to each winner (Instagram user) and they will be able to redeem the prize from their account in the App Store (https://support.apple.com/en-us/HT201209).
A participant can enter once per Instagram account. Only the first entry will be taken into account.
All information is subject to Consumed by Code's general privacy policy. The Consumed by Code Privacy Terms are available at getslopes.com under Privacy Policy.
Employees of Consumed by Code and any subcontractors, including family members, are excluded from participation. Consumed by Code reserves the right to exclude any entries that appear to be fraudulent. This promotion is subject to the promotional lottery code of conduct, which includes the sweepstake code.