We've passed the one year anniversary mark 🎂 for Slopes x Strava collaboration. The initial integration was pretty spiffy -- letting you automatically cross-post your Slopes activities to your Strava activity feed with stand-out winter maps, numbers of runs, vertical, and more. But it wasn't perfect, I know, and I've been pestering them to give me the tools and bug fixes to improve it.
The good news is that Strava finally followed through and gave us the tools needed to upload GPS data and have all the right winter stats like runs and vertical.
The new improved Slopes x Strava integration
As of today, Slopes will upload the full set of GPS data to Strava. This gives you an improved overview of your performance and support for segments!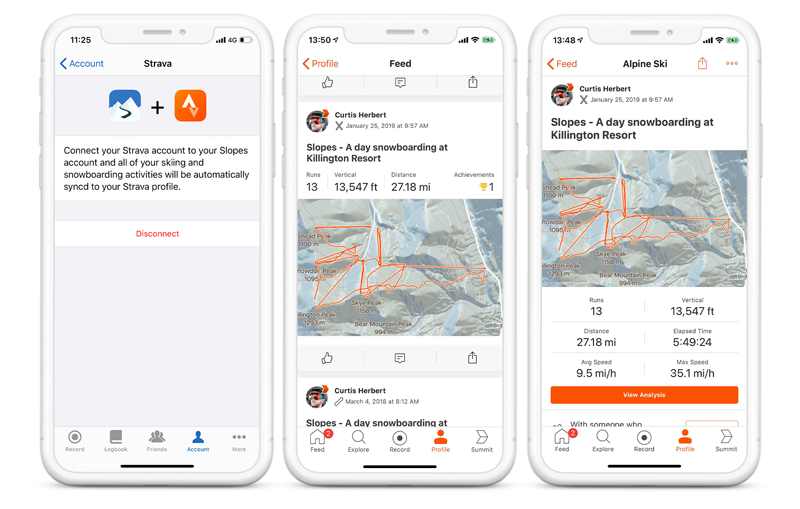 Your activities are automatically going to have this new look* going forward, you don't have to do anything!
*while Strava borrowed Slopes's idea to show winter maps, they made it a Summit-only paid feature. Free users will see green-colored maps.
Going Forward
Sending the GPS data means we're at the mercy of Strava and their algorithms for pulling out the data. It still needs work, but I hope they'll continue to improve.
At the moment snowboard activities must be uploaded as ski activities for all the stats to show right. Snowboard activities don't show speeds or get accurate segment credit (as a snowboarder I'm very annoyed at this bias!) so I've applied this workaround until that is fixed.
Strava is including lift time in the distance traveled, despite Slopes sending the appropriate run-only distance total. They're also still re-calculating average speed to include the entire day. I don't have a workaround there.
The update is already live on the Slopes servers, waiting for you to hit the next run!
Short Strava Support History:
Linking to Strava
Strava Segments and Heart Rate Data
Inaccurate average and max speeds in Strava