Winter is almost here, and Slopes is ready for it (being the optimist I am)!
Slopes is here to kick off the season with some major upgrades...
Say Hello to the new Resorts Tab
Another one of those ambitious "I've been wanting to do this forever" features. You can now find trail maps and other resort information for over 1,800+ resorts worldwide! There's also resort data like elevation and trail difficulty breakdown, and insights into what kind of stats you can expect to get in a day, based on other Slopes users.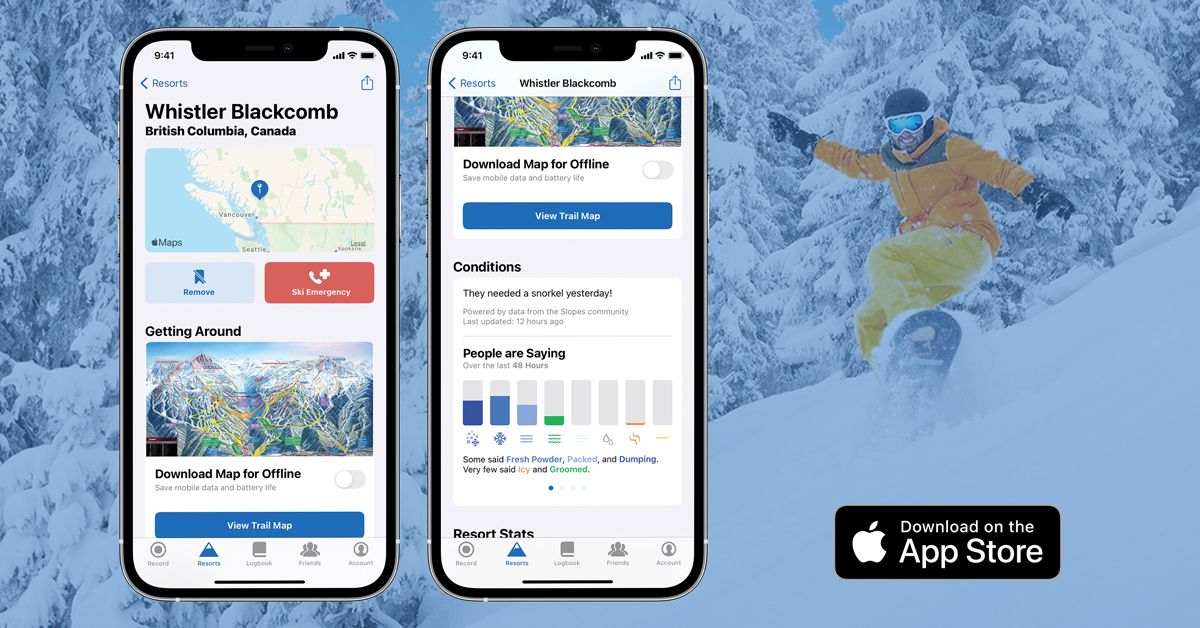 As part of this I thought it'd be helpful to include ski patrol contact information. That is listed with a quick-access button at the top of the resort screens. There is no central database of them, so me and a few other people spent the summer visiting hundreds of resort websites to gather the data. 😅
(Please, before relying on that info every season, double-check at the resort that what Slopes has listed is the up-to-date ski patrol number. The resorts don't work with Slopes to tell me if things change.)
If you notice any out of date information, or if your local hill doesn't have info yet (we grabbed logos / maps for ~1,800 resorts worldwide, and trail & contact info for ~800, but obviously couldn't get them all) you can report the corrected data using the Fix It button at the bottom of the resort's screen.
If you don't have Slopes yet but you want ot try it out, there's a new iOS14 App Clip to preview resorts. Here some links:
https://getslopes.com/resorts/keystone_resort
https://getslopes.com/resorts/zermatt
https://getslopes.com/resorts/arapahoe_basin_ski_area
---
Real-Time Conditions Report
They try their best, but resorts can sometimes paint an overly optimistic picture of what the snow conditions are (especially here on the Ice Coast, "packed pow" my butt). What we all really care about is what other riders are saying. So Slopes is here to make that happen!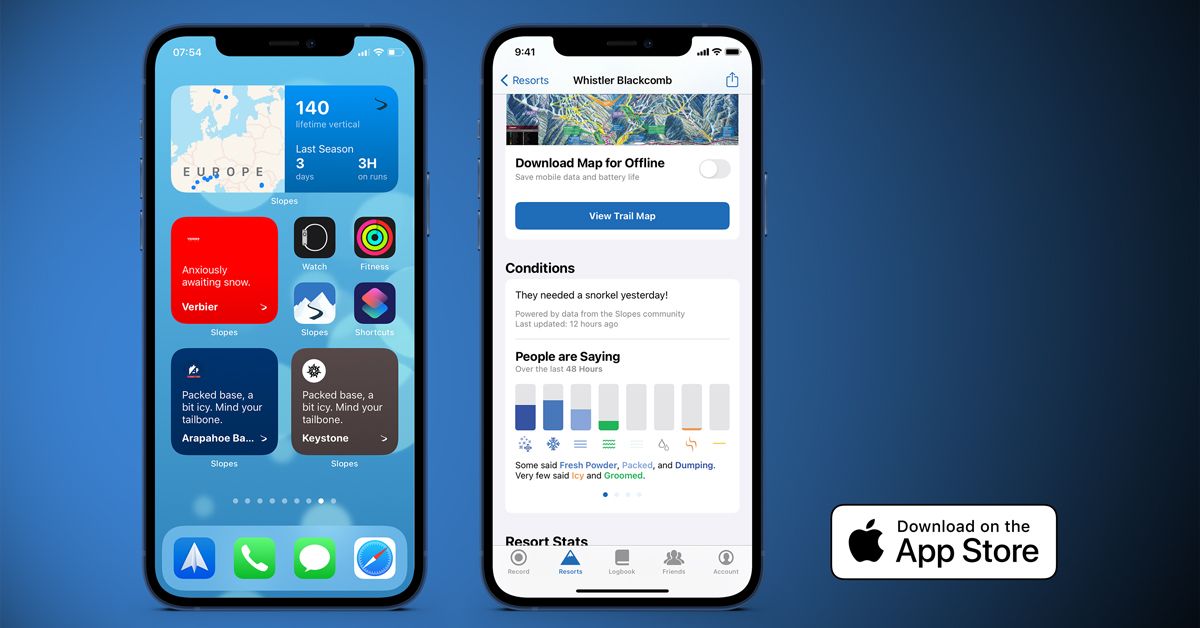 When you save your day you can tag what the conditions were like for you, and this will be averaged with other riders opinions and reported back at the resort level. With how many Slopes riders there are worldwide, I think this is going to be really useful in giving an accurate picture of what to expect before you head to the mountain.
There is a new Home Screen Widget for resort conditions, too. Pick your favorite resort(s) & pin their conditions to your home screen, and you can monitor when to get ready for a trip.
---
日本語が出来ますか? Sprechen Sie Deutsch?
Parlez vous Français? Slopes is now available in German, Spanish, French, Italian, and Japanese. If you wanna help Slopes by adding new languages or translating missing strings, there's a new link under the Account tab to help out.
Other Goodies on 3D:
Winter satellite maps for 3D: you don't know how hard I've searched for good worldwide snow-covered high resolution maps. Until I find that holy grail, the next best thing is to photoshop it! Slopes will automatically use a bunch of filters on its satellite maps to make them look like winter maps. Not perfect IMO, but better than summer green. And of course there's quite a bit more in here, including faster loading of 3d maps on the summary screens and share cards, and better smoothing of your routes in 3d.
It's been a busy summer over here, I hope you enjoy the results of all the hard work that went into this release! Stay safe out there.