With a no-BS interface, Slopes uses a range of smart features to deliver detailed breakdowns and recaps of your days on the mountain, letting you uncover a wealth of data about your days skiing and snowboarding.
Whether you're learning to ski at a local resort, or an expert deep in the backcountry grabbing untracked pow, Slopes can take your snow days to the next level. That's why we've put together a Cheatsheet with tricks, tips, taps, swipes, and settings that will make using Slopes much better.
#1 Tip for Using Slopes - Make sure you always have the latest update installed on your device.
Every season we launch new features. But we're also constantly working on improvements to make your experience even better. Sometimes during peak season, there's a new release every other week. So, before you head out to the mountain, make sure you always have the Slopes app updated to the latest version.
Download on the App Store | Get it on Google Play
---
2. Set Recording Reminders - so you won't miss the start or drive away at the end of the day.
Forgot to start recording at the beginning of the day? Forgot to stop recording and realized halfway through driving back home? Yup, there's a chance it happened to you too, and boy, it's frustrating. So why can't Slopes notify me to start when I'm close to a lift? In fact, it can!
Expand for Details

Smart Reminders are unique to Slopes, an extra safety net helping ensure you never forget to start & stop Slopes when you need to. Because they rely on the region-based user notifications provided by Apple, this feature is currently supported only on iOS and watchOS. Still, we're looking forward to when it can be made possible on Android devices.

Once you record at a resort for the first time, welcome reminders are enabled for that resort the next time you come back. Slopes will automatically manage which resorts get reminders, but if you want, you can also go in and add resorts yourself before even visiting. Great if you have a few you call home and you just wanna set things up ahead of time.

Find out here ➤ How to enable and set up the Smart Reminders.

Troubleshooting: Reminders are device-specific, so they'll appear on either your Watch or your phone, depending on where you record. Sadly iOS / watchOS won't copy these reminders from one device to another, so if it happens you set them active on both, the "other device" might annoyingly bug you with notifications - so make sure you enable them on the device you record the most.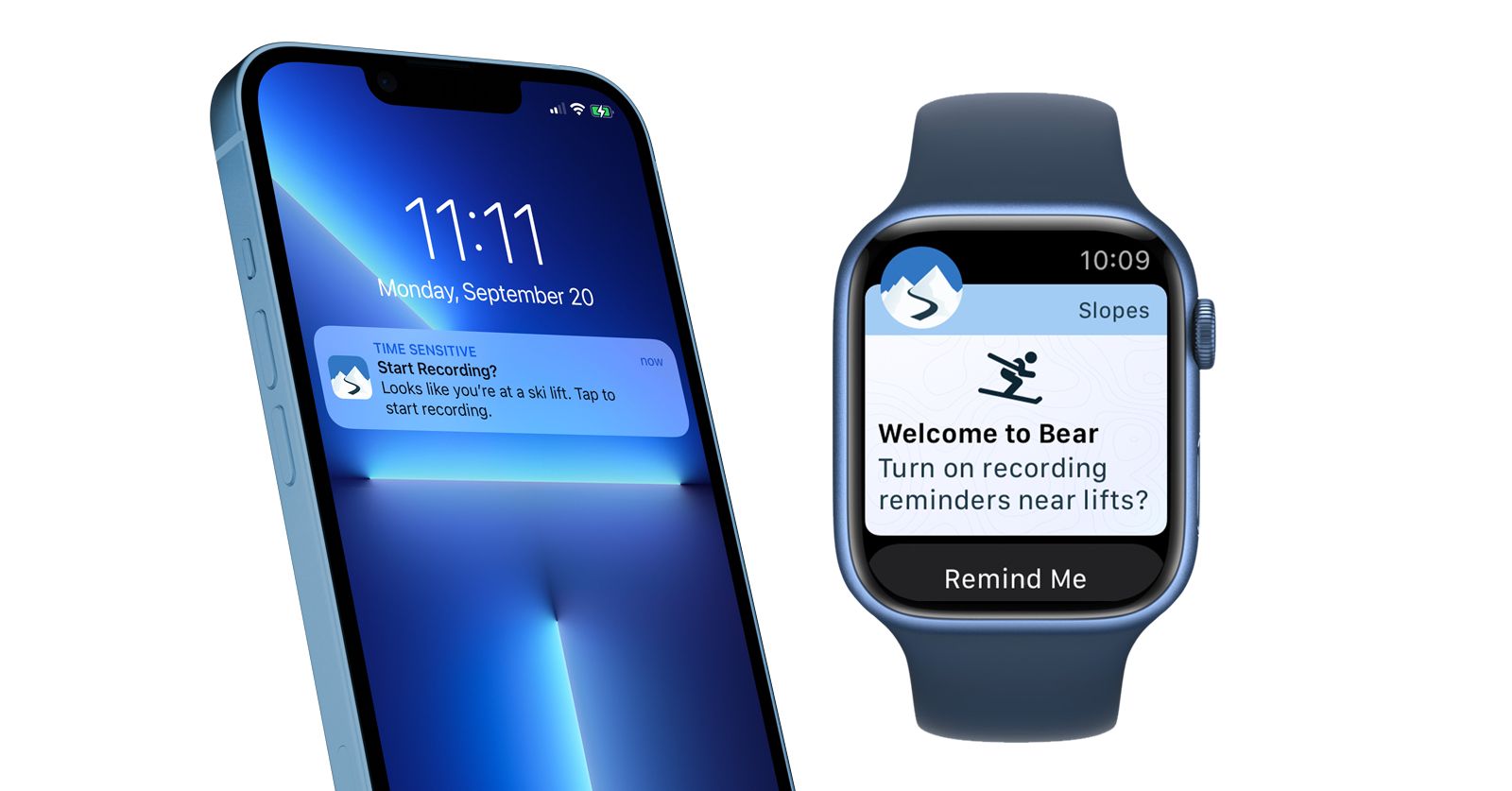 ---
3. Improve GPS Signal
There is nothing worse than your GPS acting up and not properly recording a run, which can mess with the accuracy of your stats. That's why we've got a few pointers for how to troubleshoot the issues you might have with your GPS, so you can ensure accuracy every time you're heading down the mountain.
Expand for Details

Some things to avoid to make sure your GPS stays true and fully functional:

Too Many Layers: Be careful with where on your person you place your phone because putting it under too many layers can mess with the reception.
Airplane Mode: While you might feel the urge to put your phone on Airplane mode or low power mode to extend the battery life, doing so can damage the accuracy. Instead, turn off just your cell data.

Here's a list of Do's and Don't for best GPS performance: GPS Tips Android & GPS Tips iOS.
---
4. Save on Battery Life
When no other apps are running behind the scenes, a phone with a good battery life can typically get up to 14 hours on a full charge. But even the best laid plans..., right? Here's some ways you can make it last longer:
Expand for Details

Social Slopes: No one will keep you off the internet, but you can reduce the time from social media channels & music streaming apps, as they can be a serious drain on the battery.
Warm Enough: Be careful not to place your phone beneath too many layers, as that can mess with GPS, but also stow it in a warm enough place that the cold doesn't zap it.
Lock it Up: Make sure to lock your phone when you begin recording. This way, Slopes can run all it needs to behind the scenes without needing to use up the battery power of your screen.
Tone it Down: Reduce your screen brightness and turn off keyboard sounds and vibrations.

Apple Watch Advice: The most important thing you can do is keep your phone on your person even while recording through the Watch. When the two are paired like this, the Watch knows to leave the heavy lifting (like GPS tracking) to your phone, while the Watch does what it does best and monitors that heart rate. That'll almost double the battery life of the Watch!

ℹ️ The Series 8, second generation SE and Ultra do not piggyback off the iPhone's GPS. They will use the built-in Apple Watch GPS even when your iPhone is nearby. For all other models, we recommend taking your iPhone with you.
---
5. Find Your Friends on the Mountain
Slopes supports live Location Sharing: so you'll never lose your friends on the mountain again. Enable the Find Me option on your device when you start recording. And once enabled, you can see your friends recording at that same resort (if they enabled it too), and they can see you.
Expand for Details

The feature is free, and it is built with privacy in mind. No one can see your location unless they are your friend in Slopes and also recording at the same resort (or backcountry within 2 miles). And you can turn it off at any time to go incognito.

Troubleshooting: This does rely on the cell data to work, so poor reception can lead to an outdated location for you and your friends. Just so you know, it's not us; it's 👉📶.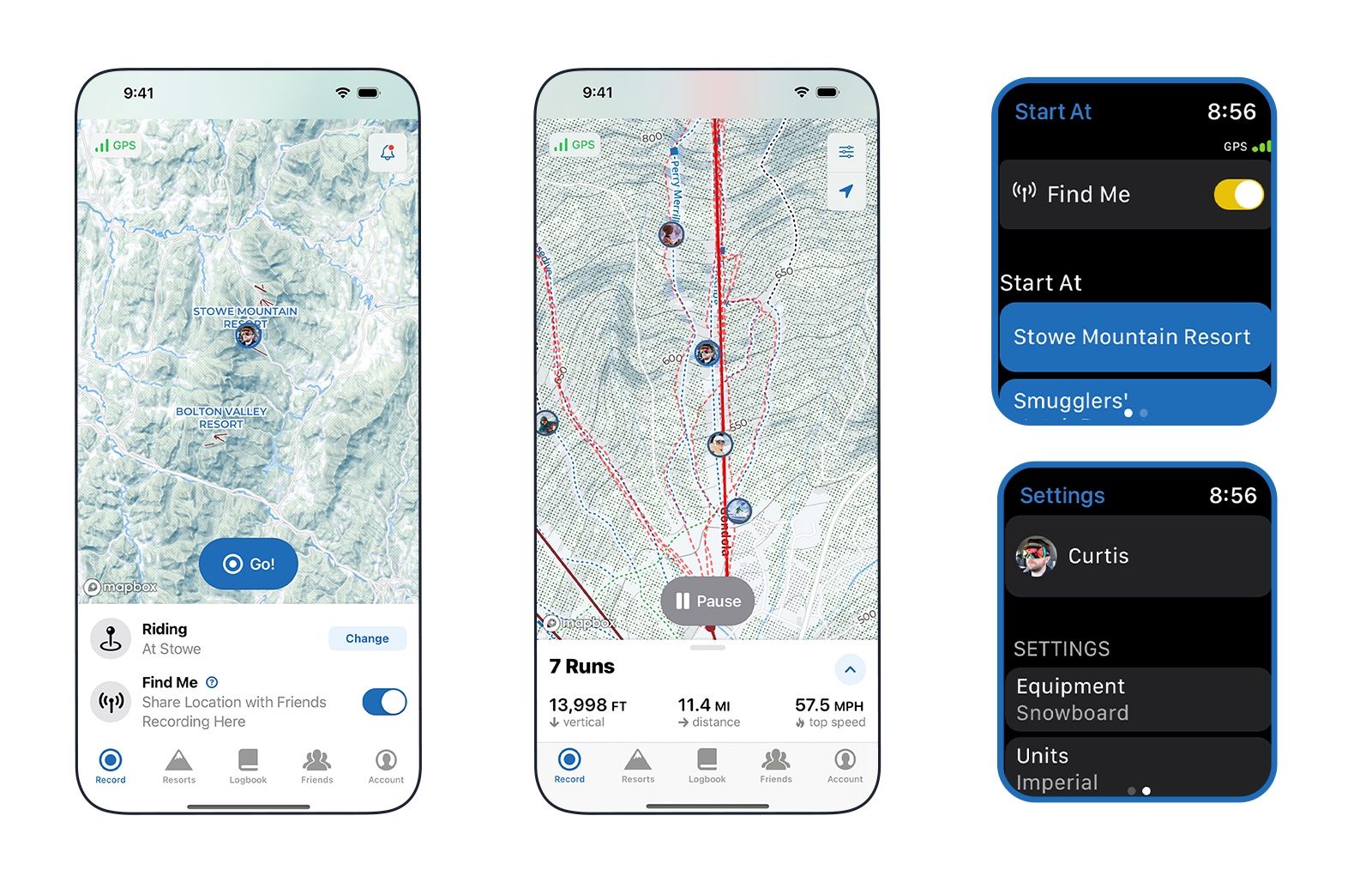 ---
6. Add Your Friends and Ride Together
Friends on Slopes work a bit differently than other social networks (by design!). Without public profiles, usernames, or anything like that, Slopes relies on you already being able to talk to your friend via some other service so you can send them a link. This goes a long way to avoid creepy strangers sliding into your DMs, bots, harassment, and more.
Expand for Details

Adding a friend is still super simple, though. Hit the + button at the top right of the Friends tab and use the share sheet to pick how you want to send the friend link. On the other end, all your friend has to do is tap that link to open up Slopes and confirm that they want to friend you.

If you need to remove a friend on Slopes for any reason, you can do so by going to the Account tab, tapping your profile at the top, and picking the Manage Friends option.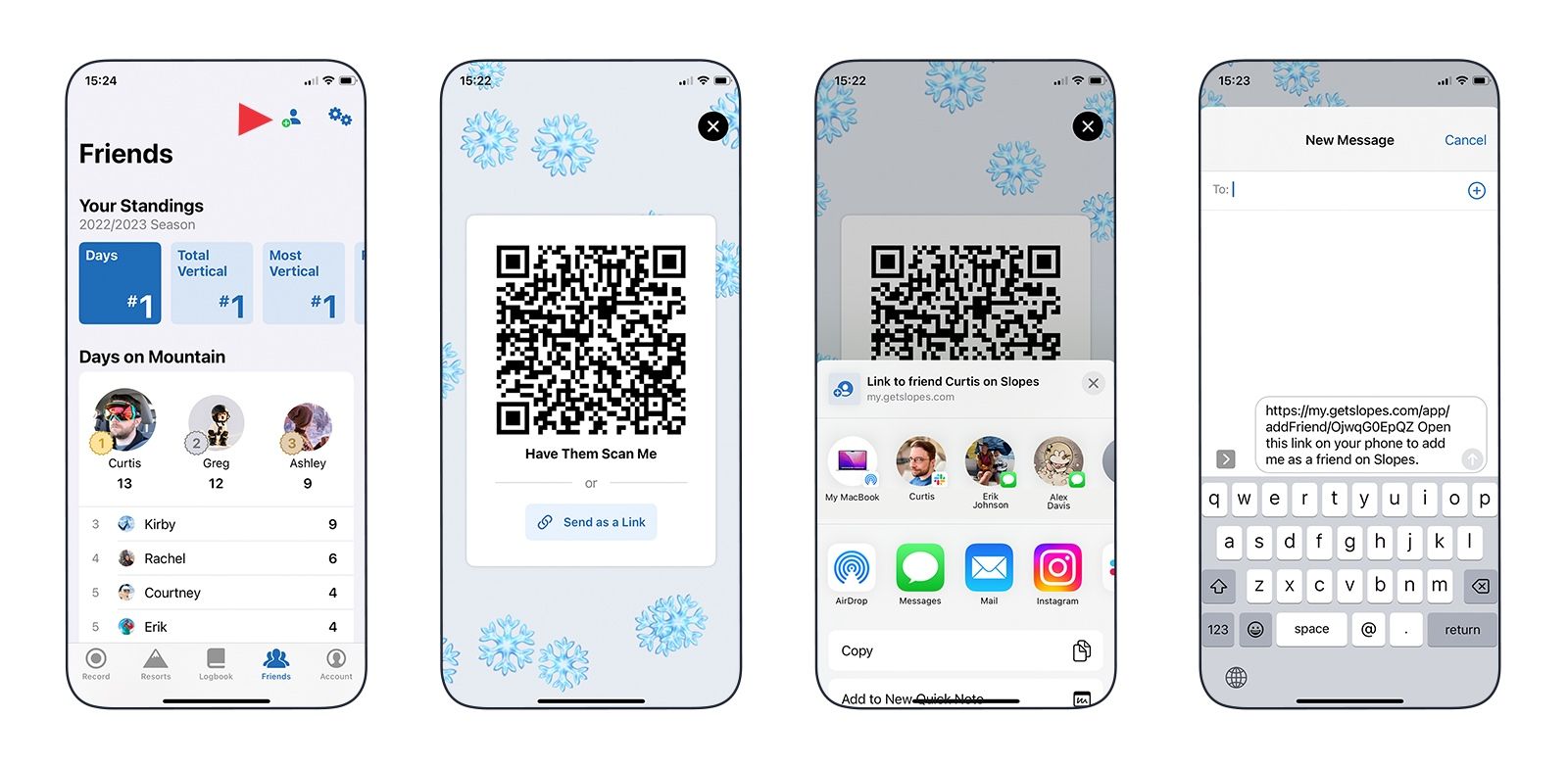 ---
7. Find Me - Share a Temporary Web Link
There are times you might want to let someone not at the resort follow along; therefore, Slopes allows you to generate a temporary link to your activity that can be viewed online.
Expand for Details

To create this link, on the mobile device, go to the Location Sharing option while recording (in the expandable Recording menu at the bottom); on watchOS go to the bottom of the nearby screen, and you'll see the share option.

The link is only valid for as long as you keep recording, so once you hit end, they won't be able to see you anymore.
---
8. Edit Your Day - Trim the drive-away for accurate stats.
There's nothing more frustrating than realizing you left the app running after getting back to the car, and now all your day stats are in a bit of a mess. That's unless you want to brag with a top speed secretly achieved on the highway ;).
Expand for Details

The Timeline Editor puts the power into your hands to add, edit or delete activities within the app. Running on the highway? Trim that time off. Forgot to start recording at the start and want to go add in the time you missed? Easy! Simply tap on Edit, and everything else stems from there.

Here are some more specific examples of the capabilities you can play with: Slopes Pro Tip: Edit Your Day.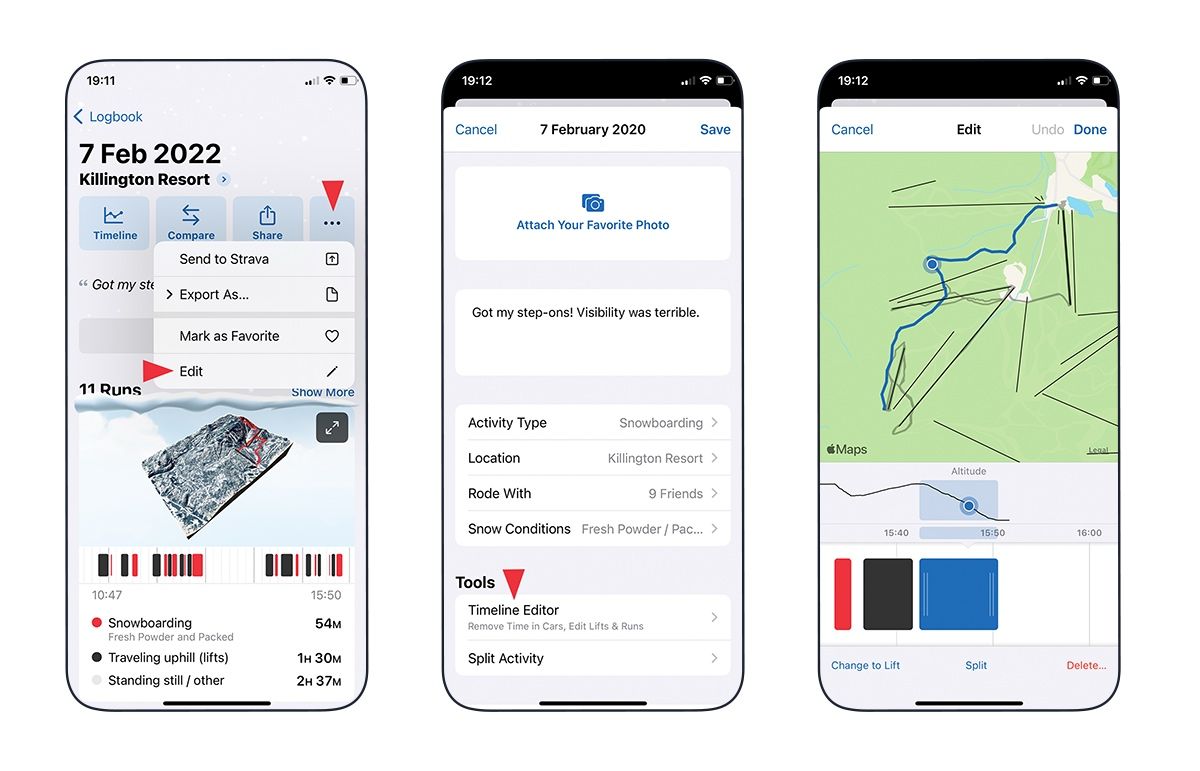 ---
9. Key Stats Shortcut - See exactly where you break a record. (Premium Feature)
One useful trick on Key Stats is seeing exactly where you hit top speed, which was your longest run, or at what point your heart raced at the max.
Expand for Details

On the Key Stats and Fitness Sections of your day, Premium users will see a blue dot sitting beside some of the stats - tap on the dot, and it will open the Timeline View exactly at the moment in time the stat was captured. Bet you didn't know that? ;)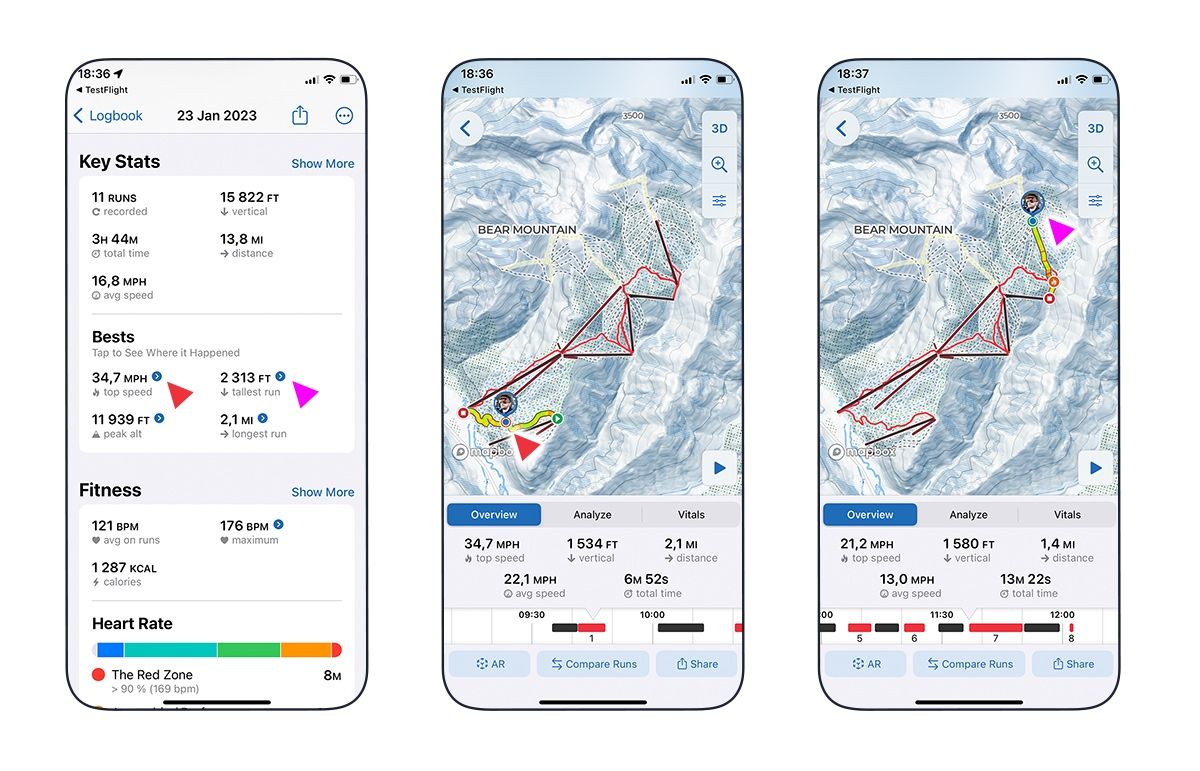 ---
10. Replay Your Day on the Timeline View
All recordings can be found in the Logbook and will be listed as Activities. The details from your day appear here, where you can also play with an interactive timeline and map, showing stats for every run and lift you did that day!
Expand for Details

The Timeline is a full replay of your day with an interactive map at the top and a time scrubber at the bottom. Tap on the play button (or manually swipe the band at the bottom), and you will see the scrubber rolling through lifts and runs in sync with live stats and replays at the top.

This part of the app allows you to fully replay your runs on the map, swipe and zoom your way through the day you just had, and compare runs.
---
11. Compare Runs (Premium Feature)
You know when you do the same run a few times, and you push yourself a little harder that last time? It's super easy to see the results of your efforts! Premium users can bring up two runs side-by-side and compare them in detail.
But even cooler (IMO), this will also work with friends you rode with. See who is sustaining the best speed, taking the most breaks, and more.
---
12. How We Measure Top Speed
Slopes measures a sustaining top speed. In other words, you need to sustain a top speed for a second or two for it to register in the stats.
Expand for Details

For the vast majority of the time, with how people ride, this works out just fine; but if you're cruising at 30mph and zip up to 45 for 2 seconds and then settle back down, it might only register 43 or 44. This smoothing that Slopes does helps avoid a lot of issues with bad data but can end up missing quick bursts of speed.

On the other hand, it does give a more realistic view of your performance and your progress over time.
---
13. Create Trips and Review Trip Stats
Trips are a big part of your Logbook. At the end of your first trip day, add the activities to a new Trip, and then Slopes will take care of the rest!
Expand for Details

Hit the "calendar+" button at the top right of the Logbook to make a trip.
Each Trip will have its own summary view that contains all your stats and ways you can share those with your friends beyond the app.
---
14. Review Your Lifetime Stats
Ever been curious about which resort you visited most often or the peak altitude you reached in your life? What about your all-time top speed or how many days you've spent riding downhill?
Expand for Details

Tap the lifetime stats summary at the top of the Logbook to dig into all the juicy details.
You can see your Season stats or your Trip stats in a similar way too. Tap on the Season Summary or the Trip Summary, and you'll get to the overview.

Bonus: Record 1 million vertical feet with Slopes, share it on IG story, and we'll get you into the Slopes Million Vertical Club. The club is quite exclusive and not an easy feat - it takes an average of 100 days on the hill to reach the goal.

---
15. Import Activities From Other Apps
New to Slopes? Why not take a few minutes to import your data from other apps that are compatible with Slopes? This way, you can have all your epic winters in one place. The data from any of the following apps can be effortlessly imported to Slopes: Trace/Alpine Replay, Ski Tracks, Snoww, or other GPX files.
Expand for Details

Trace / Alpine Replay used to let you export GPX via their web interface http://snow.traceup.com/settings/gpx. Unfortunately, it was discontinued the last time we checked. If it happens that you have your data backed up, you can import those files into Slopes.
Ski Tracks lets you export files in the .skiz format that can be imported to Slopes.
Snoww lets you export to GPX, which Slopes can import.
Sadly Snocru does not provide a way to export your recorded data.

Here is a step-by-step guide on how to import activities into Slopes: Pro Tip - Import Activities.
---
16. Export Activities From Slopes
You can easily export your activity data recorded with Slopes. It's your data, and Slopes will always make sure you can get to it. Slopes can export in GPX, KMZ, and a Slopes backup file.
Expand for Details

To export a recording from Slopes, open the recording from the Logbook.

At the top of the screen you'll see Timeline | Compare | Share and three dots for more actions - tap on the dots -> Export As, then choose from one of the below file types, and save.

Slopes File
KMZ File
GPX File

Active Time (Lifts & Runs)
All Day, Single Track
Raw GPS Data
---
17. Connect to Strava
While Slopes itself does not include public-facing profiles, that's not to say you shouldn't have the chance to shout your stats from the rooftops if you like. That's why we've created an easy integration with Strava, so you can share your daily recaps to your feed there.
You can link the two up by going into Settings → Integrations → Upload Activities to Strava.
Why am I seeing inaccurate data in Strava?

Over the years, we've had a number of users get in touch to say that the data they see in Strava doesn't match what they see in Slopes.

You may find that the total distance you see in Strava can be significantly more than what you see in Slopes. This is because Slopes filters out time spent on lifts and only counts time spent on runs in your total distance for the day. The data we send over to Strava identifies what are runs and what are lifts, but Strava often will just combine them.

When it comes to speed, Slopes sends over a lot of data to Strava, including average speed and max speed. It is on them to use the data we send over, and for speed, they aren't. For speed specifically, they are currently only displaying those if they come from Strava's own calculations based on GPS data. This is causing things like average speed to look incorrect (they simply recalculate it as distance/time) and for no max speed to register.

We have raised these issues with our Strava partnership contact, but to date (as of the 2022/2023 season), we haven't been able to resolve them. We continue to remind them that it is causing frustration for our mutual users, and if you haven't yet already, we'd appreciate you shooting them a message with your feedback too.
Why doesn't heart rate get sent to Strava?

We don't send your heart rate data to Strava because it doesn't get sent to our server. We don't collect and store it, so it doesn't leave your device or Apple Health - we just display the data the Apple Watch sends us.

We are aware that there is increasing demand for this, though, so we are keeping it in mind as we work on further development.
Can I manually send a recording to Strava?

Slopes will send your recordings to Strava automatically, but if, for some reason, you need to send a recording manually, follow these steps:

Tap on the Logbook tab in Slopes Open the recording that you want to send to Strava. At the top of the screen, tap on the three dots next to the Share button > Tap on Send to Strava.
---
18. Connect to Garmin
As of this season, Slopes teams up with Garmin, so you can enjoy all the features you love in Slopes, while keeping (just) your Garmin on your wrist. Your Garmin Connect and Slopes accounts can be linked, and Garmin Connect Autosync automatically syncs activities to Slopes.
Expand for Details

After completing the one-time authorization in your Slopes account, the last 5 years of your Garmin snow history will be imported (ignoring any duplicates of data already in Slopes).

Head to Account Settings -> Online Integrations to get started.
Tap on Import from Garmin -> Connect.
You'll then be taken to a web page to sign into your Garmin account.

Good to Know: Missing Lifts & Heart Rate Data
Garmin records the details of each downhill run using the autorun feature, which automatically records new runs based on your movement. On the ride up, your device will pause the timer during chairlift rides. As soon as you start moving downhill, the timer will restart.
As lift data is not recorded in Garmin Connect, it will not be visible in the Slopes app either, and stats will be based on active run time only. Slopes will not be able to detect lifts because we don't have GPS data for them, and we'll be missing the heart rate data for while you were riding lifts, or doing anything else other than skiing or snowboarding.
This will result in more "Resting" time, even if your heart rate is still up when you come off a run or walk between lifts.
---
19. Health Connect & Google Fit Integration
If you're using an Android wearable or any other device that pushes data to Google's Health APIs, Health Connect can sync this fitness data into Slopes.
Expand for Details

Here's how to get going:

Go to the Account tab in Slopes
Tap Integrations
Choose Google Fit as the Health Source and follow the prompts

There's an awesome fitness section on the daily summary screen, including heart rate analytics for Slopes Premium users. See how hard you really pushed yourself at a glance with fitness insights if data is available through Google Fit, Samsung Health, and more.
---
20. Find the Slopes Guy
Finally, love Where's Waldo? Track Curtis down the slopes, say "Hi!" in person, and get free swag, including the elusive "I met the Slopes guy" pin.
Expand for Details

From all the Merch you can unlock in the Slopes mini-store, there's one item that's always out of reach: the Free Stealth Pin. Because this exclusive pin is dedicated only to those who've met Curtis in person. And with Curtis moving to Colorado and traveling quite often internationally, there's a reasonable chance you can track him down.

His live location is always ON while he records, so you can find him and track him down here: Live Location for Curtis.

He's also pretty open about his plans and presence at different resorts on IG stories and posts, so if you're in for the quest, follow @slopesapp and find out where Curtis is or will be next.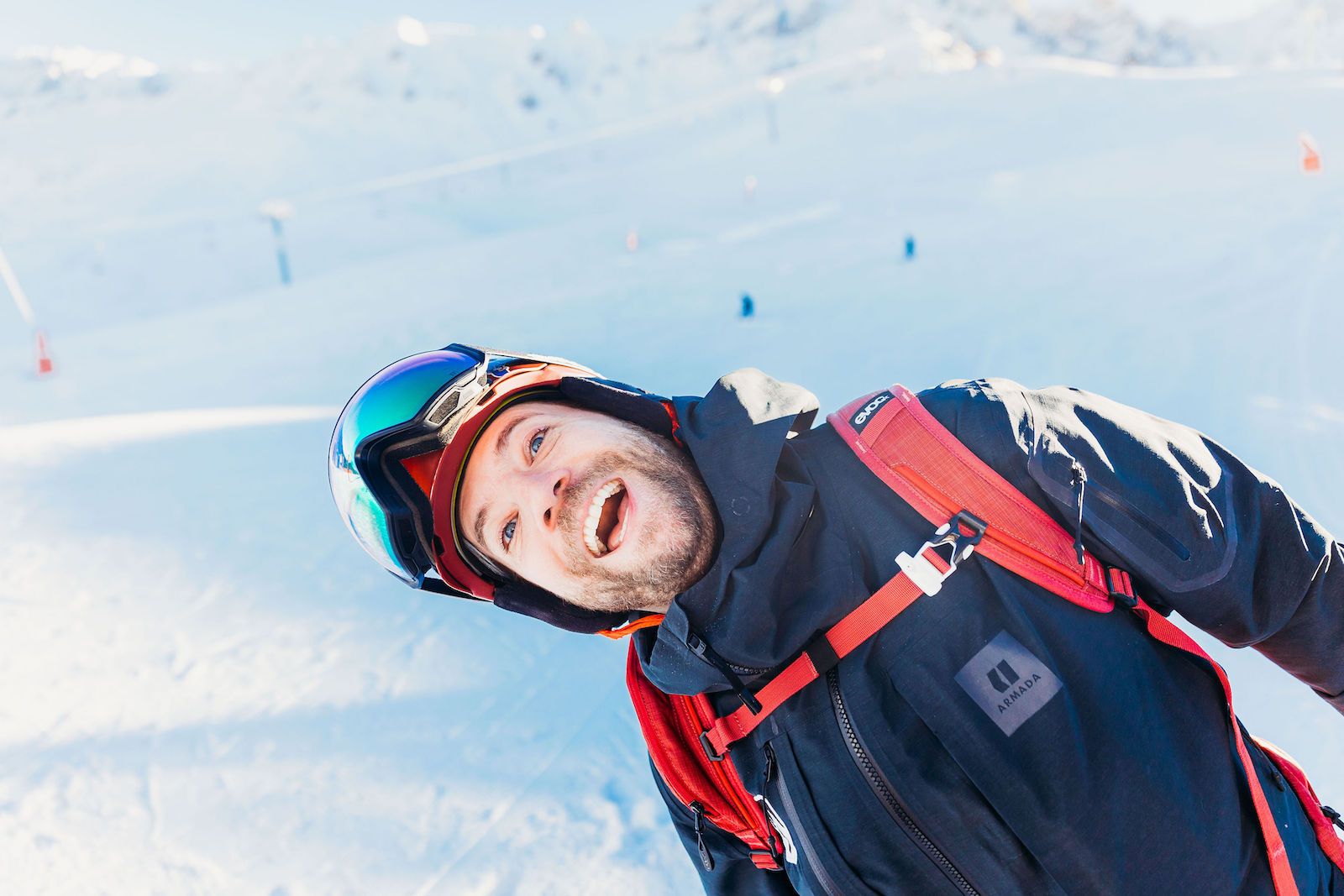 I hope we have surprised you with at least one thing you didn't know about Slopes, but most of all, that you found new joy in using and playing with the app. Now let's go to the mountains!
---