Created for the iPhone and Apple Watch, Slopes gives you the best experience when it comes to tracking your skiing and snowboarding adventures!
With a no BS interface, Slopes uses a range of smart features to deliver detailed breakdowns of all your stats. It also easily integrates with your photo library so you can store your treasured memories right into the cloud. To learn more about how to get started, read on.
1. Start with Smart Recording
2. Have an Apple Watch?
3. Ride With Friends and Compare Stats
4. Summary of the Day - Interactive Maps & Timeline
5. Your Logbook with Trips & Seasons
---
Start with Smart Recording
One thing you don't want to be staring at when out the slopes, it's your phone screen. That's why Slopes automatically detects lifts and runs for you all day long.
Hit record once, then forget about it. You only need these 3 quick steps:
Visit the record tab in the app
Enter your location
Hit GO, and tuck your phone away for an epic day
The app works wherever you are, no cell reception required! And when you decide to grab lunch, catch a shuttle, or take a break and don't want to mess with your stats? Simply press Pause, so the app saves some battery while it waits.
There's an App(le Watch) for That
Link Slopes with your Apple Watch and you won't need to constantly check your phone, to see how you're doing. Using the Watch allows you to track—in real-time—your heart rate, calorie estimates, and more.
Read more about the Slopes version for Apple Watch here: Slopes on Watch. Or discover our Pro Tips for Apple Watch.
Hey Siri start Slopes
Starting your workout in Slopes…

Raise your wrist and give the Watch a command, and BAM! You're utilizing the app while your phone stays nice and cozy in your pocket. Ask Siri to Start, Pause, Resume, or End your recording.
The best part is that Slopes goes easy on your phone AND the Watch battery. You don't have to worry about either dying mid-day, while you still have runs to make.
(PS, Don't forget that even if you don't have the Watch, you can still use Siri on your iPhone with these same commands.)
---
Ride With Friends
Make your days out on the slopes even better when you use the app with friends. Add friends before you head out, and you'll be able to do things like challenge one another, or just track how everyone did, and pat each other on the back.
Slopes cares deeply about your privacy. Only you can add fellow riders to your recording, and there is no public facing activity or account that shares your information. The only folks who can see your stats and other app features are the friends you know and add.
Next time you're heading out on the mountain with a college buddy, your closest sibling, or the friendly, neighborhood yeti, make sure they have the Slopes app and double the fun. Check your private leaderboard so you can tease, brag, comment over your fails and high five each other over your achievements!
---
Let's Recap That
Finished your last run of the day? Hit Stop, and save your record for the day to have it be counted. At this point, you can also attach photos from your runs and leave notes on them, like, "Powwow", "Jimmy had a tantrum" or "I'm the next Shaun White". Whatever helps capture the energy of the day, add it as a comment so your unforgettable days can stay exactly that.
All recordings can be found in your Logbook, and will be listed as Activities. The  details from your day appear here, where you can also play with an interactive timeline and map, that shows stats for every run and lift you did that day!
Slopes integrates with Apple's Health to track your calories, workouts, and adds to your Activity Rings. This will allow you to see how your day in the snow helped you further fitness goals as well.
My absolute favorite about daily recaps is what pops up when you visit the Run Details & Map: that's the Timeline View. It is a full replay of your day with an interactive map at the top and a time scrubber at the bottom.
This part of the app allows you to fully replay your runs on the map, swipe and zoom your way through the day you just had.
*Keep in mind the additional features on this screen, like detailed run-by-run stat breakdowns, are only available through Slopes Premium. Visit here for details on more.
---
A Look at the Logbook
The place where you'll likely spend most of your time on the app is the Logbook, aka the place in the app where all your activities are listed. The Logbook groups your runs by Season, so if seeing just your daily or trip long totals isn't enough, you can take a peek at your Season Stats, to see how you did over the course of an entire chunk of the year.
Trips are a big part of your Logbook. At the end of your first trip day, add the recordings to a new Trip, and then Slops will take care of the rest! Hit that "+" button in the top right of the Logbook to make a trip.
Just like with days and Seasons, each Trip will have its own summary view that contains all your stats, and ways you can share those with your friends beyond the app.
---
Your Bests deserve the honor of your Instagram, Facebook or Twitter feeds!
Have a run with impressive stats, or a photo of you and friends on the trail that you just can't wait to share? Slopes makes it easy to share your achievements to your Instagram, Facebook and Twitter feeds. (And bonus pro tip: you can use the VS share card if you manage to one up your friends.)
And don't forget to share your personal bests and favorite moments with the Slopes team. We love hearing from the folks in the Slopes community! Find Slopes on Instagram, Twitter, Facebook, for quick news and updates: @slopesapp.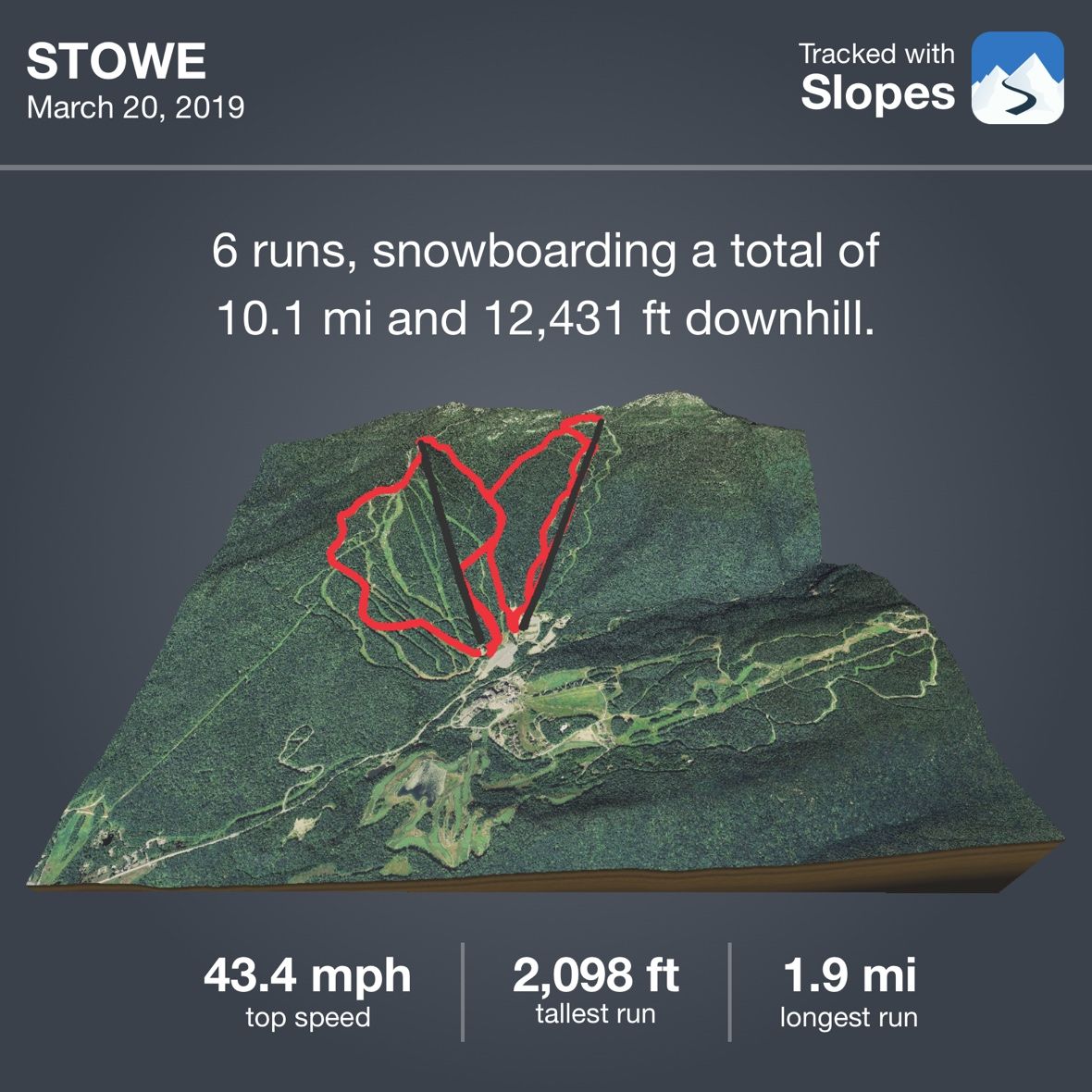 ---
More Pro Tips:
Record on Apple Watch
Recording Reminders
Connect to Strava
Import Activities from Other Apps
All-Day Battery Life
Edit Your Day
GPS Signal
Discover Slopes Premium